So, as I mentioned a day or so ago, I'll be attending Archon this year. I don't expect a big convention — I doubt the masquerade will be anything much, for example, and usually this is a heck of a convention for the masquerade. However, we shall see!
I'm on seven panels. I'm moderating three, which means a little more preparation may be desirable. In one case, "a little more preparation" gave me an excuse to be a touch self-indulgent — more about that below.
So, the panels:
Friday:
Writing Older Characters
Not every character is a spring chicken!
I imagine this will be an easy panel. Everyone no doubt has a list of their favorite older characters to mention, for one thing. Certainly I do.
My first thought was: Have I actually ever written an older character? Isn't that a trope I like but have so far not written myself?
Then I thought, No, that's older female characters. I've actually written a good handful of older male characters — how many depends on what you consider "older." (My opinion of what seems "older" has definitely changed over the past decade.)
There's Gereint — he's forty-one — and Beguchren — unspecified, but much older than that — from The Land of Burning Sands. Then Aras, who is early fifties — not as old for a Lau as for me, granted. And even more recently, Daniel, who is also in his fifties somewhere. (That really does not seem old to me any more.) So, honestly, that's plenty of older protagonists and near-protagonists.
I still do want to write an older female character, though. Someone like Maskelle, an older woman at the height of her power — granted that Maskelle has met certain reverses , but still. Or perhaps I'd like to write someone older than that, like in her seventies, something like that. Tenai doesn't count here because she's not older physically.
Saturday:
The Starting Point
"Ideas are easy, writing is hard." How do you choose which ideas are worth pursuing? How do you decide when an idea just isn't working and move on to something else? What if you've already taken an advance?
This panel, I'm moderating, so I came up with a longish list of questions that address this topic. It's an interesting topic, and I expect everyone on the panel will most likely respond in a unique way, since everyone's writing process is generally so different. Among other things, I bet that "an idea that isn't working" means something different for a writer who outlines extensively than it does for me.
Planning The Perfect Murder
You've read enough murder mysteries; how would YOU pull off the perfect murder?
The way this panel prompt is written, it's an easy topic to have fun with. I did copy the link to that fun post … right, here it is: The Only Murdering Murder Guide You'll Ever Need, You Murderer. I'll be sharing that for sure. Some of the advice in that post is actually good, too. I've occasionally been stunned when reading a true-crime story at how stupid people are when they hire someone else to kill their spouse. Amazingly stupid to hire some lowlife thug you don't know. Amazingly stupid to involve anybody else period.
Anyway, moving on:
The Space Races
Some stories have mankind becoming more and more homogenous until race is no longer an issue. Others have racial, religious and other groups all heading off to colonize their own 'home planet.' Which do we think is more likely, and are there positive aspects to both systems?'
At first I thought this was supposed to be about the question of whether humanity would become more homogenous or more heterogeneous after leaving Earth and scattering across the galaxy. That would be a pretty silly question, unless you invented mass teleportation, say. However, on second look, that's not what it says. Increasing homogeneity can be presumed to be happening in a future in which humanity never does leave Earth. That's not nearly as silly, though I don't actually think it's likely either.
Regardless, I will personally be arguing that it's absolutely inevitable that heterogeneity will increase if and when humans scatter into space. Plain genetic drift would see to that even in the complete absence of (a) the founder effect, (b) selection, or (c) people fiddling around with genetic engineering — all of which would probably also take place simultaneously.
I haven't yet looked for far-future SF novels in which one or the other outcome is postulated. There's at least one kid's SF novel in which the former outcome, increased homogeneity, is postulated, but I don't remember enough about it to pull title or author out of my head. Mostly I can think of titles postulating increased heterogeneity. We'll see what the other panelists come up with here.
Editing: My Way or the Highway
You've scored a book contract with a major publisher, but they want changes. Editors can't always be right, can they? Is there a 'line in the sand' you just won't cross?
I'm moderating this one. I've broken "changes" into categories: minor, still minor, still fairly minor, major, and really major. I think it should be easy to talk about examples of suggested changes that fall into these categories. I can certainly do so personally, with Mountain being the one that lands in the "really major" category. Can you replace this protagonist with a different protagonist and revamp the plot to make that work? Yeah, pretty sure that counts as "really major."
And everyone has a line they won't cross for any given book, surely.
I don't anticipate any problems with this panel. I think it should be interesting, easy to keep focused on the topic, and packed with opinions.
Sunday:
Space Cops
Who are some of the most interesting Science Fiction detectives and lawmen? What crime fighting equipment do we want to see in the future?
I don't really know how I wound up on this panel. I'm dreading it a bit. I can think of any number of detectives and lawmen I like a lot — in fantasy. Not so much in SF. I can think of ONE — Wrapt in Crystal by Sharon Shinn. If you stretch a point, the latest Murderbot novella is a murder mystery. But that's it. That's all I can think of.
I've certainly never written any character who falls into this category, except (if you stretch a point) maybe Aras? And that's fantasy, not SF.
So I went on a fast google search and then picked up samples of half a dozen books featuring detectives and inspectors and agents and so on in SF settings. I feel like I better read at least a couple of them real quick and give this whole "equipment" question some thought.
If any of you immediately thought of a detective or whatever in a SF novel, please point me to that in the comments. Even suggestions of TV shows and movies would be welcome. Robocop is the only one who springs to mind for me.
Rawr: Why Are We So Fascinated with Dinosaurs?
Every small child can tell you that dinosaurs are absolutely amazing. Why are adults so drawn to them as well?
Whew! That is much better!
I mean, this is a fundamentally stupid question: Why are adults so drawn to them as well? The answer is too obvious for words: because dinosaurs are genuinely amazing, that's why. There's no need to focus the panel on that question. Instead — I'm moderating, so I'll be directing the discussion — I'll start with these two basic questions:
A) Theropods, Sauropods, or Ceratopsians?
B) Got a favorite clade?
Theropods are the familiar lineage of bipedal, largely carnivorous dinosaurs that include Tyrannosaurs (not my favorite) and a whole lot of other dinosaurs including the maniraptorans (my personal favorite).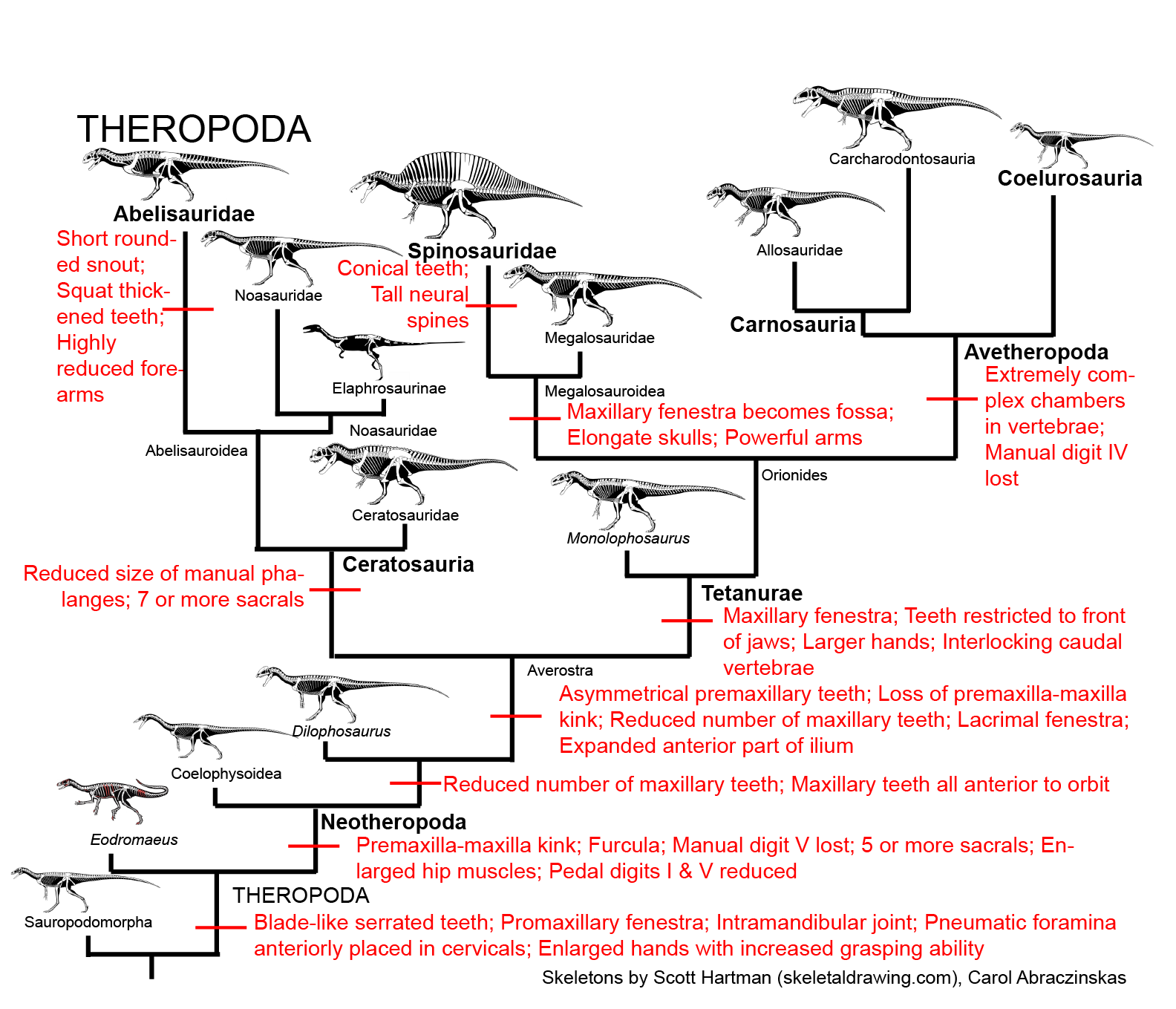 The maniraptorans are a branch of the Coelurosaurids. This snazzy image is from the amazing, extensive set of taxonomic trees produced for the GEOL 104 Dinosaurs: A Natural History class at the University of Maryland, a class that presents THE BEST taxonomic trees of dinosaurs ANYWHERE online. Look at this tree! Look at how clearly the important anatomical details are presented. I can't imagine going to the U of M and not taking this class. I would have LOVED this class. You can line up one tree after another and trace dinosaurs from Archosauria all the way up to birds — just keep going up the right-hand tip of each taxonomic tree.
The sauropods are of course the big guys. I'm not fundamentally as interested in sauropods as theropods, though sheer size does have its own fascination. I do like ceratopsians — the horned dinosaurs — almost as much as maniraptorans. There are a handful of other big groups, notably the thyreophorans — those are the armored dinosaurs, stegosaurs on one main branch and ankylosaurs on the other. They're fine, I guess. If your artistic sensibility is inclined toward tanks and rhinos, then no doubt thyreophorans also appeal to you.
Anyway, I used this panel as an excuse to indulge myself. I bought, for show-and-tell at this panel:
These books are illustrated by Rubén Molina Pérez, who's wonderful at paleoart. Here's an example of his artwork from the Theropod book:
Isn't that spectacular? Wow, I'm going to love these books!
Also, though unfortunately not for show and tell, this book:
This one is available at Amazon as an ebook for eight bucks or so, and as a paper-edition hardcover for a mere $245. Guess which version I bought. This sounds like a GREAT book. I love the table of contents. It's a bunch of papers that came out of a relatively recent-ish symposium (about fifteen years ago) on the Ceratopsians. There's so much here! The book is about a thousand pages.
I also already had this one:
As you can see, I'm looking forward to this panel.