From Book Riot — 20 OF THE BEST ENEMIES-TO-LOVERS FANTASY BOOKS
My first reaction: well, there's a common trope. Nothing could be more clichéd.
Of course, tropes only become clichés if they're compelling in the hands of a skilled author. I'm bored by this trope if it's too blatant. There are many times when I roll my eyes and think, Oh, here's the eventual love interest, and kind of wish that really, they'd just stay enemies, just to be different.
On the other hand, I often like an enemies-to-lovers plot, as long as the author handles it with a certain degree of subtlety or twists it a bit sideways or something. Let me see …
Ilona Andrews made me enjoy the enemies-to-lovers trope with their Hidden Legacy series. Come to think of it, they also did it with their Hugh d'Ambray novel Iron and Magic. The enemies portion of the plot is rather reduced in both these cases, which I generally prefer.
Sharon Shinn has certainly used the antagonists-to-lovers plot several times, and very nicely too. I'm not sure she's ever started out with her lovers actually enemies. Opposed isn't the same as enemies.
Sherwood Smith did this in Crown Duel/Court Duel, but in that case, I had some trouble because Meliara was so obviously and egregiously wrong about Shevraeth, it was just painful.
Naomi Novik also used this trope in Uprooted, though there it was definitely twisted a bit sideways. Enemies isn't really the correct term for the initial relationship, where neither of them thought of the other as an actual person.
Hmm, come to think of it, I've used this trope myself, in The Mountain of Kept Memory. I certainly enjoyed writing the scenes that involved Oressa and Gajdosik. I'm smiling right now, thinking of some of my favorite scenes.
Anyway, sure, let's take a look at the Book Riot post …
I haven't read most of these. None of the ones I thought of are on this list.
But here's a good one: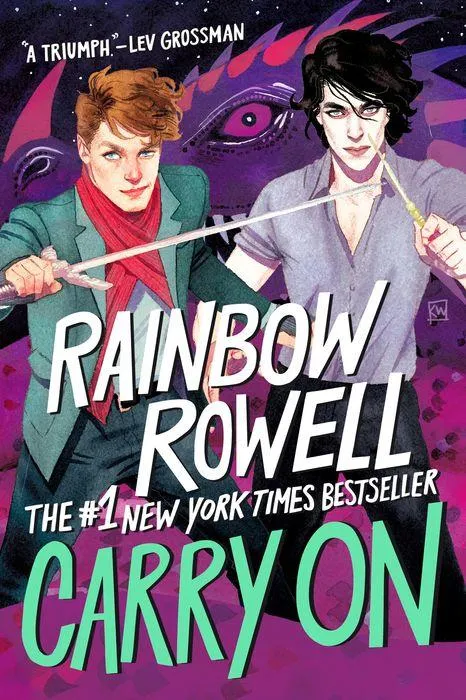 I re-read Carry On just a little while ago, in fact. I do like Fangirl much better, so I re-read that first, and then re-read Carry On in order to decide whether to go on with the trilogy. You knew there were two more books out, right? I only realized that relatively recently. Here's a snippet of description about the second book:
That's how Simon and Penny and Baz end up in a vintage convertible, tearing across the American West. They find trouble, of course. (Dragons, vampires, skunk-headed things with shotguns.) And they get lost. They get so lost, they start to wonder whether they ever knew where they were headed in the first place...
I still haven't decided. I liked Carry On okay, but I like Rowell's contemporary YA much better. Maybe I'll read Eleanor and Park instead. I might even have that on my Kindle already.
It's certainly a fine example of enemies-to-lovers, though.
If we step away from fantasy, I can think of some other fine examples.
I mean, it's hard to beat Cordelia and Aral. I'm not sure there's any enemies-to-lovers story I like better than this one!
If you've got a favorite example of enemies-to-lovers in fantasy or SF, by all means drop it in the comments!