From Crime Reads: SEVEN MYSTERY NOVELS WHERE THE CRIMES ARE MOTIVATED BY BOOKS
I am a passionate bibliophile myself….This avocation is what inspired me to create the Bibliophile Mysteries, featuring a bookbinder who solves murders linked to the rare books in her care. So you might legitimately call me a book fanatic. But I'm not as far gone as book collectors who feel obsessed to possess. Those for whom a particular treasure may inspire them to felonious deeds.
And then, as advertised, seven murder mysteries featuring book-centered crimes. These mysteries mostly look like cozies, but a couple don't seem to fit that subgenre. All of them sound intriguing. I like the book chosen as the centerpiece for this mystery: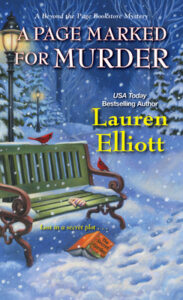 A Page Marked for Murder by Lauren Elliott
As the charming coastal town of Greyborne Harbor is gearing up for their annual Fire and Ice Festival, Addie Greyborne's friend Gloria suffers a fall that sends her to the hospital. While at Gloria's house to care for her dog, Addie notices a rare and valuable first edition of The Secret Garden. But on her next visit, the book is missing, which makes her wonder if Gloria's fall wasn't an accident at all—and whether it's linked to the dead body found behind the bakery. The owner of the bakery is charged with the crime, but Addie is convinced that the police have the wrong person in custody. And so of course, as amateur sleuths do, she'll have to track down the killer herself. What I love best about the Beyond the Page Bookstore Mysteries are the complex and appealing characters. I'd love to join them at the local café for a cup of coffee and a hot dish of gossip.
The mysteries in the linked post feature things like a first edition of Jekyll and Hyde or the first-ever-written Sherlock Holmes story or whatever, and those are fine, but I have to admit, I loved The Secret Garden and am drawn at once toward this book, just because it mentions that one.
Although the book by Frances Hodgson Burnett I loved the most was, hands down, A Little Princess.
Googling now, I find that Burnett wrote an awful lot of books, including many I've never heard of, much less read. This one, a fairy tale, is available for free from Amazon. Every book description of Burnett's books makes the stories sound so twee and sentimental. And in some ways, I guess they are sentimental, and yet so very charming. If any of you have read any of her books other than A Little Princess or The Secret Garden, which, and what did you think?